Kate Scolatti | MS, LMFT
LICENSED MARRIAGE & FAMILY THERAPIST
Family Counseling & Individual Counseling
Counseling for Adults and Teens (Age 13+)
---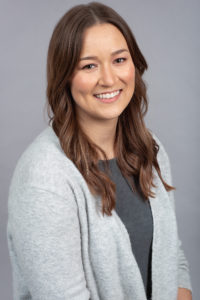 Kate is a warm, compassionate, and non-judgmental therapist, who prides herself on providing concrete skills for change. Humor is important in Kate's work, and she believes that when we do the hard work of creating lasting change, we should be able to enjoy the process.
Kate works with families and individuals (13+). She firmly believes we all exist within systems; none of us are on this earth alone and the relationships we maintain have a direct impact on our individual well-being.
Kate specializes in treating anxiety disorders, including generalized anxiety disorder, panic disorder, agoraphobia, other phobias, and social anxiety. She also loves helping people with OCD.  She utilizes a combination of evidence-based approaches including Cognitive Behavioral Therapy (CBT), Dialectical Behavioral Therapy (DBT), and Exposure and Response Prevention (ERP) to provide both specific skills and supportive processing. She enjoys helping teens and adults navigate life transitions or manage the impact of chronic and acute medical illnesses.
In family counseling, she focuses on strengthening bonds, repairing conflict, reorganizing after major stressors, and addressing ongoing patterns that lead to feeling "stuck". She loves to help parents and their kids with communication skill building, parenting issues, blended family issues, and adjustment to unexpected stressors (medical issues, grief, etc.). 
Kate is a transplant to the Pacific Northwest after growing up on the East Coast. She moved to the PNW in 2016 and now cannot imagine living elsewhere. In her spare time, she can be found enjoying yoga, artisan bread making, and spending time with her husband and Bernese Mountain Dog.
Education and Credentials:
Licensed Marriage and Family Therapist (WA): # LF60950343
Masters Degree in Marriage and Family Therapy from Auburn University
Bachelors Degree in Psychology from The University of Richmond
Specialties:
Panic & Anxiety Disorder Specialist
Cognitive Behavioral Therapy (CBT)
Exposure and Response Prevention (ERP)
Emotion-Focused Therapy (EFT) Specialist
Emotion-Focused Family Therapy (EFFT) Specialist