Eating Disorder Counseling

An eating disorder is a distorted relationship with food and with one's body. In many cases, men and women with eating problems fear fatness more than anything. Over-eating or food restriction become a go-to coping mechanism for unwanted feelings. Thoughts about food and weight can become all-consuming. Approximately 30 million people in America are currently suffering from an eating disorder. At Star Meadow Counseling, we can help.
Anorexia Nervosa (Anorexia): Anorexia is characterized by self-starvation, refusal to maintain a normal weight, obsessive thoughts about food, and intense dislike for one's body. Symptoms can progress to include hair loss, sensitivity to cold, and the absence of menstruation in women.
Bulimia Nervosa (Bulimia): Bulimia is characterized by frequent binge eating episodes, followed by some activity to compensate for the large caloric intake, including vomiting, over-exercising, fasting, or over-use of laxatives. Physical problems that might coincide include gastrointestinal problems, erosion of enamel on the teeth, and electrolyte imbalances.
Binge Eating Disorder (BED): BED impacts 3-5% of all women and 1-2% of men. Binge episodes involve the loss of control around eating. Other symptoms may include eating rapidly, eating to the point of discomfort, eating when not physically hungry, feeling guilty after eating, or eating alone out of embarrassment for the amounts being consumed.
Emotional Eating: Emotional eating occurs when food is a primary coping mechanism for emotions (stress, anger, sadness, fatigue, boredom, etc.). Cravings typically coincide with the more vulnerable emotions apart from gut-felt hunger. Emotional eating by itself is not a mental health diagnosis (though may accompany any of the conditions described above). Nonetheless, therapy can help identify triggers for emotional eating and build a reserve of alternative coping options.
Avoidant/Restrictive Food Intake Disorder (ARFID): ARFID represents a spectrum of eating struggles that are not connected to body image worries. Some may have a lack of interest in food. Others might experience phobias about food or feared body responses (example: vomiting, allergic reactions, choking). A common specific phobia is the fear of vomiting (Emetophobia), which can be treated with Cognitive-Behavioral Therapy and a gradual exposure therapy plan.
FAQ about Eating Disorder Therapy
Will counseling make me fat?
Let's face it: Your die-hard fight with fat is part of what makes your eating disorder an eating disorder. Rather than being overly weight-focused, our goal in counseling is to move toward holistic health and well-being. We follow a Health at Every Size model for eating disorder treatment. This means that you will find our counselors to be inclusive and respectful of people of all body sizes.
Will you tell me what to eat?
No, your counselor does not take the place of a professional dietitian. As needed, we will refer you to a registered dietitian as part of treatment.
Do you see clients at all levels of care?
We exclusively provide outpatient level (weekly or every-other-week) counseling for eating disorder treatment. Because of the lethal nature of some eating disorders, sometimes the best quality of care involves more intensive medical care or treatment. At your initial appointment, you counselor will assess your level of need and provide referral options if needed.
Do you help males?
Yes, we help both men and women. Women are more commonly affected by eating disorders with more than 20 million women in America currently diagnosed.  However, more than one million men and boys are also currently suffering from bulimia, anorexia, or binge eating disorder.  Men and women are equally susceptible to pop culture's message about how a body "should" look. If you are a man struggling with an eating disorder, help is here!
Can I fully recover from my eating disorder?
Yes, most people with eating disorders can make full recoveries or obtain significant relief. Recovery means more than the absence of eating disorder behaviors (restriction, binge eating, purging, excessive exercise, etc.). Full recovery will look different for each individual. Some signs of recovery might include learning to trust your body's signals, not translating life issues into food issues, alleviating food fears,  and feeling freedom from intrusive negative thoughts about yourself. Recovery has a unique meaning for each person so it is difficult to generalize. Your counselor will ask you to set customized goals.
Resources on Eating Disorders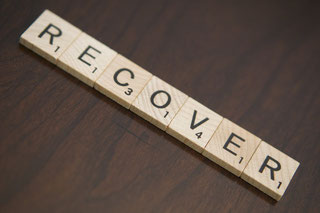 Eating Disorder Apps for your Phone
1. Rise Up + Recovery (eating disorder monitoring and management tool)
Cost: Free
This password-protected app provides convenient meal logs (without calorie counting). Using quick scales, you can also easily track the emotions and behaviors that went along with each meal. There's also a wealth of inspirational quotes and affirmations to keep you on track toward eating disorder recovery.
2. Recovery Record (eating disorder monitoring and management tool)
Cost: Free
This app allows you to share your food and mood log with your participating dietician or mental health counselor. It provides useful charting and data so you can track your progress. Meal plans, coping skill suggestions, and supportive messages are also included. This app has been voted the top eating disorder app for four years in a row!
Recommended Reading
Useful Websites
Ready for Help?
If you are ready to get help with your eating disorder, make peace with your body, or improve your relationship with food, click here to schedule an appointment online, call us at 360-952-3070, or email us at info@starmeadowcounseling.com. Ericka Martin is our on-site eating disorder specialist.
Star Meadow Counseling
Provides Therapy Services to:
Vancouver WA | Salmon Creek WA | Ridgefield WA | Woodland WA | Battle Ground WA