Meredith Noble | B.A.Sc.
GRADUATE STUDENT COUNSELING INTERN
Individual Counseling for Adults (18+)
---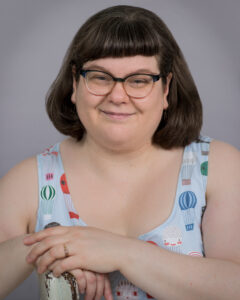 Meredith is a student counselor with a deeply empathetic style. She believes that growth and change happen through experiences of safety, compassion, and connection and strives to provide her clients a space where validation, understanding, and the lifting of shame are constant features.
Meredith particularly loves to help clients who struggle with chronic dieting, eating disorders, body shame, and weight stigma. As a Certified Body Trust® Provider, she is fat positive and the Health At Every Size® (HAES) paradigm forms the foundation of her work. Before training to be a counselor, Meredith worked as a fat liberation and intuitive eating coach for five years, specializing supporting those in plus-size/fat bodies.
Meredith also enjoys working with those who experience chronic pain and chronic illness, and she has lived experience of both. Her interests also include supporting clients with depression, anxiety, and trauma histories.
Meredith integrates techniques from many corners of the therapy world, including relational-cultural therapy, polyvagal therapy, Internal Family Systems, and Accelerated Dynamic Experiential Psychotherapy. She believes healing often happens best in relationship, and believes that our somatic experiences, nervous system states, and emotions carry powerful information for us.
Meredith is a Canadian ex-pat who loves afternoon tea with scones and proper clotted cream. She is happiest when cuddling her cat, Elliot, and when going out to brunch with her husband. She is currently re-learning to play the piano after a 29-year hiatus and her hidden superpower is knowing how to play curling!
Education and Credentials:
In process of obtaining master's degree in Counseling from Lewis & Clark College
Bachelor of Applied Science in Engineering Science from the University of Toronto
Certified Body Trust® Provider
Motivational interviewing training
Areas of Interest:
Eating disorders & body image (especially Binge Eating Disorder)
Weight stigma, fat liberation, Health At Every Size®, Body Trust®
Chronic illness & pain
Depression, anxiety
Trauma / PTSD / CPTSD
Star Meadow Counseling
Provides Therapy Services to:
Vancouver WA | Salmon Creek WA | Ridgefield WA | Woodland WA | Battle Ground WA