June is Pride Month, so let's take this opportunity to go over some ways you can support the LGBTQ+ folks in your life if they choose to share their experience with you. Your response should vary based on your relationship dynamic, but in general, these are some rules to follow: 
Listen and don't assume: Every person's experience is different, so be careful not to assume anything about their experience, needs, or preferences based on what you've seen other people do or examples in media. If you don't know what questions to ask, a simple "tell me more about this" or "what has that been like for you" is a good way to signal you are open to more information and that you want to know their experience. 
Ask questions, but don't expect to be educated: Ask questions about their experience, but if you are not familiar with the LGBTQ+ issues or terminology, be prepared to do some research instead of asking satisfying your curiosity at the expense of your loved one. Have questions related to the specifics of laws, family planning, brain chemistry, etc.? There are so many resources online that you can use instead of placing that burden on a singular person.
Don't center the conversation on yourself: Many people respond with a well-meaning, "you could have told me" or "why didn't you tell me sooner?", usually intending to confirm to the person that they would have been open and supportive. Unfortunately, this changes the focus of the conversation to the person needing to apologize or manage your relationship instead of sharing their experience. They are telling you now, and that's all that matters. 
Manage your fears and expectations on your own: Many people, especially parents, immediately start to think about the future when someone comes out to them, and this often focuses on safety and future expectations. Well-meaning people will often say that they are "just worried about how the world will treat you", or that they "hate that this will make your life harder. LGBTQ+ folks are acutely aware of the discrimination they will face and do not need to be reminded of that. Respond to them the way you wish the world would. 
Resist the urge to make a "big deal": While some folks love the idea of a celebration when they come out, most are just looking to know that your feelings toward them are no different than they were before you knew this part of their identity and that you will support them. While some outward demonstrations of support can be appropriate (things like putting up a pride flag, making requested changes to displayed pictures or items personalized with names, or sending care packages), make sure you also engage in the same things, conversations, and activities you used to do before they came out, remember they are still the same person! 
Acknowledge your gratitude: Trusting someone with this information is a huge deal, so be sure to communicate your gratitude that they told you, even if was later than you would have wanted or expected. 
Respect their privacy: This information is not yours to share unless you have explicit permission from your loved one. It is theirs to tell on their own, how they want to. So if you're chatting with extended family members or friends, don't bring it up (even in a positive light!) unless that person has given their consent. There may be reasons they are not wanting to share this information with certain people, and it undermines their trust in you. 
Commit to using correct terminology: If you haven't had much exposure to LGBTQ+ folks or the community, it might feel like you are overwhelmed with new terminology and "rules". No one will expect you to get it right all the time at first, but they will expect you to be actively learning and trying. Commit to asking what identifiers your loved one uses, and be willing to correct yourself when you make a mistake. If you do mess up, simply correct yourself and move on. Long, belabored apologies are unnecessary and again put the focus on you and your loved one having to manage your emotions. Here is a resource of common terms to get familiar with: https://www.hrc.org/resources/glossary-of-terms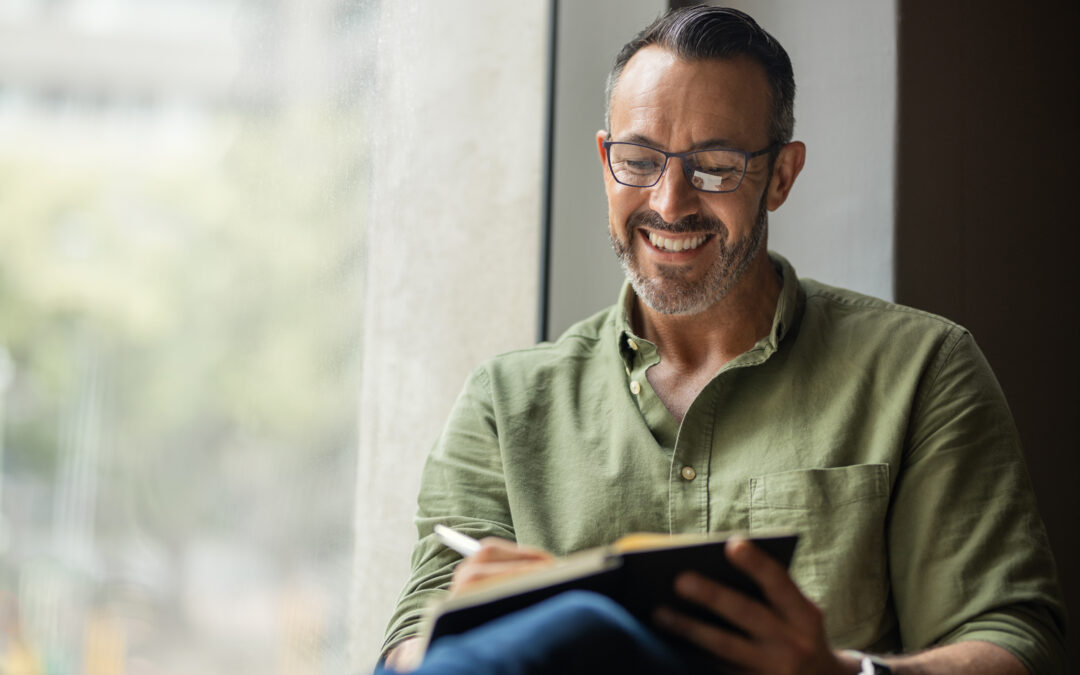 If you have ever had a conversation with your therapist about coping skill development, you have probably received a recommendation to begin a journaling practice. Understandably, sometimes journaling is met with skepticism - What does writing about my emotions solve,...